Kate Coughlin Helps Livermore Army Veteran on The Road to Recovery
Article By Jenremy Thomas, San Jose Mercury News
Lying on her back across a row of padded chairs, Mariela Meylan grimaces, struggling to stretch her arms skyward. Through a gentle form of yoga, she's training her damaged brain to more effectively communicate with her limbs. "My body is not in so much in pain as it was before," the former soldier says slowly, but intelligibly. "Everything is moving in the right direction." It is a miracle... Read More
Upcoming Workshops & Events
Thanksgiving Day FREE Class
9:30am-11:30am
First come first serve
Kate will teach in the OM studio
Jim will teach in the Lotus studio
All other classes cancelled for the day.



Retreat: Restoring Mind, Body & Spirit for the Holidays

December 5-7
With Kate Coughlin
& Elisa Mott

Spirals and Twists: The Evolving Revolving Pose
December 13-14
With Kate Coughlin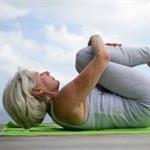 Yoga for Back Care Certification Part II
January 9-11
With Kate Coughlin
& Shauna Lay


"Pleasanton's Best" - Downtown Yoga - an award-winning Yoga Alliance Registered Yoga Studio - has conducted over 20,000 yoga classes to thousands of people within and around the San Francisco Bay Area since 2002. We offer precise, knowledgeable and safe instruction to all levels and ages of students. We teach over 45 yoga classes per week in two studios with classes starting as early as 6:00 am and as late as 7:30 pm. Open 7-days a week, we have Introduction to yoga programs, classes for Beginners to Intermediate to Advanced students, kids programs, Prenatal yoga and Senior and Teen discounts. We have a yoga class and program that is right for you!